Christ: The Center
Home
>
Articles
,
Featured
,
Sermons
> Christ: The Center
by Phil Ware
What's the big deal about baby Jesus and his birth?
Ah… glad you asked. I want to answer that question in two parts. The first is to center things biblically. The second and the more touching part is the story itself.
The Advent, the coming of Jesus Christ to our world, means everything for those of us who believe. The accounts in Matthew and Luke about Jesus' conception, birth, and welcome are more than quaint tales from long ago and far away. The birth of Jesus is the coming of God to the world that he had beautifully and purposely created. Unfortunately, his human creations marred and broke this world through their rebellion.
As John the evangelist put it, this coming of God into our world in baby Jesus challenged all of us to make a decision about who Mary and Joseph placed in that manger so many years ago:
He was in the world, and though the world was made through him, the world did not recognize him. He came to that which was his own, but his own did not receive him. Yet to all who did receive him, to those who believed in his name, he gave the right to become children of God — children born not of natural descent, nor of human decision or a husband's will, but born of God (John 1:10-13).
For those of us who have received him and have believed in his name, Jesus means everything. Or at least, we say that Jesus means everything to us. We confess Jesus as the Christ, the Messiah, of God promised to the Jewish people from the time of Abraham. We proclaim that Jesus Christ is Lord — our Lord, Lord of all people, all time, and all creation. With this faith in Jesus Christ as our Lord, we also proclaim that this Christ is the center of our faith.
However, Christ is more than these descriptions. Christ is more than we can ask, imagine, or fully explain (Ephesians 3:20-21). Christ is certainly more than our words can contain (John 21:25).
Today, we want to remind ourselves that at the heart of our faith is this one fundamental truth: Jesus Christ is our Center! In fact, Christ isn't just our center, Christ is, in fact, THE center of everything good, right, true, moral, and forever! Here are three particular ways Jesus is the center of everything for us.
Christ is the center of salvation.
Jesus himself emphasized that he was the only way to God and the truth and the light about God (John 14:6. The first disciples preached Jesus as the only true way for humans to find salvation (Acts 4:12). Jesus was God's plan for our salvation from the beginning (Matthew 13:35; Matthew 25:34; Ephesians 1:4; Hebrews 9:26; 1 Peter 1:20)
Christ is the center of time.Even those cultures who do not know Jesus or believe in Jesus join with much of Western culture and divide time into the era before Christ and the time after Christ's birth.[BC/AD Jesus' disciples are those on whom the end of ages has come (1 Corinthians 10:11; Hebrews 9:26). The Lord's followers live in these last days (Acts 2:17; 2 Timothy 3:1; Hebrews 1:2;James 5:3; 2 Peter 3:3) in expectation of his imminent coming (1 Thessalonians 4:13; 1 Thessalonians 5:1-11). Christ's once for all (Romans 6:10;Hebrews 7:27; Hebrews 9:12; Hebrews 9:26; Hebrews 10:10) sacrifice for our sins brought about lasting salvation for all who are his true followers. Two passages emphasize the importance of Jesus' coming at the right time, making his work for believers the center of time:
But when the set time had fully come, God sent his Son, born of a woman, born under the law, to redeem those under the law, that we might receive adoption to sonship (Galatians 4:4). You see, at just the right time, when we were still powerless, Christ died for the ungodly. Very rarely will anyone die for a righteous person, though for a good person someone might possibly dare to die. But God demonstrates his own love for us in this: While we were still sinners, Christ died for us Romans 5:6-8.
3.  Christ is the basis and center of hope.
Christ is the center of hope as the prophet proclaimed centuries before his birth prophesied: In his [Messiah's] name the nations will put their hope (Isaiah 42:1-4 quoted in Matthew 12:21). While Jesus was alive, his disciples had hoped that as the Christ he was the one who was going to redeem Israel (Luke 23:8). These disciples from Emmaus said these words with broken hearts that had lost their hope with Jesus' death. Yet when they realized that he was raised from the dead, their hope was no longer past tense, but a living hope (1 Peter 1:3-5) they set their lives to do what Jesus told them in some of his last words to them:
Then he opened their minds so they could understand the Scriptures. He told them, "This is what is written: The Messiah will suffer and rise from the dead on the third day, and repentance for the forgiveness of sins will be preached in his name to all nations, beginning at Jerusalem, (Luke 24:45-47).
Hope was no longer past tense, but a living hope that became the center of all of their hope!
Jesus is the center of our salvation, time, and hope. But while all these words are true, reciting the truth of Scripture can't emotionally convey the truth of what it means for Christ to be the center of our lives, our faith, and our future. That is why God loved us so much that he didn't send us a book. He sent us his Son (John 3:16). The story of God's coming to us in Jesus captures our hearts because this is the world we recognize and the hope in the middle of messy lives that we desperately need!
Before we knew Christ as Center of everything, he was the center of everything for Mary and Joseph! You see, one day Mary was a simple young Jewish woman of deep faith. She was awaiting the most important day of her life, her wedding to Joseph. She was pledged to him. Her hope for life was about to reach its destination — marriage, family, love, meaning, and purpose.
Then, Mary is inextricably pregnant! Joseph hadn't broken his vow of faithfulness to Mary during their betrothal. While Mary knew the holy mystery of this conception, how would she explain it? Who would understand her explanation? How could anyone believe her? How would Joseph ever believe her?
The LORD's angel appeared to Mary's intended in a dream. The angel challenged him to believe the impossible, that Mary's pregnancy was the miraculous work of the Almighty God himself and the child would be God come to live among his people. As a holy and devout man, Joseph believed the angel. He trusts that Mary's pregnancy is something God had created by the Holy Spirit. However, Joseph knew that NO ONE could or would believe his explanation. Yet in his faithfulness to both the divine will and to Mary his betrothed, Joseph chooses to share her shame as well as her journey into the mystery of being parents of the one true and living God!
When the time was near for their son, God's Son, to be born, this couple had to face another complication. They had to make a hard journey to Bethlehem to register in the census. In this incredibly important moment in their lives, they found themselves all alone. Joseph's family and Mary's family are not present. Joseph's kinfolks and family didn't receive them in Bethlehem. They don't understand. They don't welcome this couple or their coming child, the Christ of Israel, into their family or their homes.
When they arrived in Bethlehem, there is no room for them to stay… to rest… to deliver their first child… God's holy child. No room with family. No room in the inn. No room for them or for their baby, their little boy, God's Son, who is fast on the way!
Mary's labor and delivery room was a stable. The only one she could be sure to help her through this deliver was faithful Joseph… and the Holy One of Israel whose Son they would bring into the world!
In the middle of the mess of this broken world, in the mess of their broken lives, and in this unspeakably hard moment in a stable, Mary delivers God's miracle!
Mary's world is forever changed as her life, along with Joseph's life, begin to revolve around one true center for everything in their world, Jesus, who is Christ the Lord, the Son of God and the world's Savior.
Many nearby, even those who didn't know Mary and Joseph, were swept up in the wonder of grace at Jesus' birth. The heavens filled rejoicing of angels as shepherds receive the news of God's salvation.
Yes, when a baby comes into your world, everything changes. Life has a different center. However, Jesus wasn't just the center of life for Mary and Joseph, but also the center of everything important for every person in the world and every person yet to be born.
The key question for you and me is simple and clear. Is Christ, Jesus the Son of God, Mary's baby boy, the center of your life?
Jesus is the center of everything, and most importantly, Christ is the center of God's story. One way to look at Scripture focuses on the Christ, Jesus, and his work:
BC/AD BC is more commonly written BCE (Before Common Era) with AD (Anno Domini "in the year of the Lord") in proper modern usage.

________________________________________________________________________
About the Author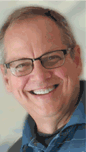 "Christ: The Center" by Phil Ware is licensed under a Creative Commons License. Heartlight encourages you to share this material with others in church bulletins, personal emails and other non-commercial uses. Please see our Usage Guidelines for more information.